My name is Anna Lindell and I am the bead artist behind Tigerguld's beadwork.
I discovered the beading world in 2007 when I searched for jewellery to wear at my wedding. I couldn't find anything, but when our girls showed the necklaces with colourful plastic beads they made at pre-school, I started wondering if I could make something myself. An online search opened up a brand new world for me!
At first I only created different kinds of beadwork and jewellery for myself and others. After a few years I discovered how fun it is to share the knowledge of beads with others, so I started developing new designs to teach.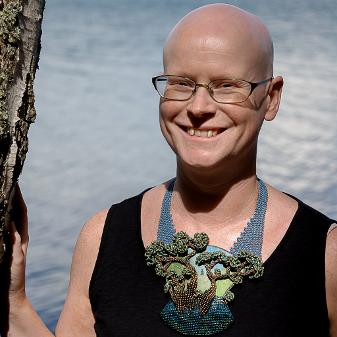 My projects are often realistic looking where you can see what I've tried to portray. I mainly work with different types of Japanese and Czech glass beads. They keep the even, high quality that is required to be able for other beaders to achieve the same end result when they follow my tutorials.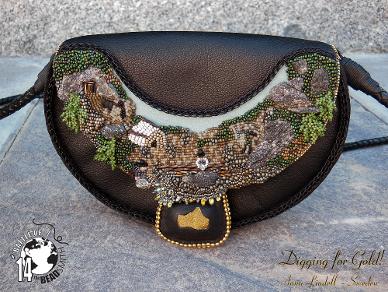 I also work with metal wire to create Viking knit chains for necklaces, bracelets and other purposes. Viking knit is often recurring in my creations, and it is always fun to share the knowledge of our Nordic heritage with others in my classes.
In my masterpieces, I love mixing different materials and techniques to create a detailed picture that takes people on a journey somewhere. One example is the "Digging for Gold" evening bag – I have used pebbles from the garden and leather from an old jacket to create the backdrop for the 19th century prospectors camp in Klondike.
Since 2012, the English publication Bead & Jewellery Magazine have published about 20 of my beading projects. Some designs are recurring in the interactive Bead Me Magazine app, and some have been printed in other international beading magazines.
In october 2013, I was awarded 3rd place in the British Bead Awards with my necklace "Serenity". You can see that necklace and other designs on my gallery page.
The past few years my participation in the Starman TrendSetters prestigious design team has helped me towards new goals. My "Zipper bracelet" design was the Pattern of the Month in January 2015, and in December the same year, my "Wicker Bangle" was featured in the Starman ad for the CzechMates Crescent beads.
Today I am a member of Beadsmith Inspirational Squad and work mainly with developing new designs for bead suppliers and beading magazines in Europe. Some creations are showcased as inspirational pieces, others become tutorials or my own class designs that I teach in Sweden and abroad.
Most welcome to my little part of the big beading world, let's paint with beads!