collaborations
I have the privilege of meeting lots of amazing beaders from all over the world in my work. We are a global network of beaders in different roles that enjoy working together in various ways.
Tutorials
My tutorials are found in my Etsy shop Tigerguld, but you can also buy them in the following Swedish bead shops.
Exhibits
My beadwork has been showcased at two art galleries in the Stockholm Old Town between the years of 2012 and 2016. The exhibits "Våreld", "Rimfrost" and "Glimmer" was shared with Kerstin Kallin of Kronbruden. Olga Vinnere Pettersson from Made by Olga and I returned three years in a row with "Back to the Roots". "Intriguing Elegance", which I participated in together with Anci Åse from Alfsdotter Creations in spring 2016, is my final exhibit for the time being.
Some of my work has also been on display in various locations:
Big Bead Show in Esher (U.K)
Bead & Button Show in Milwaukee (America)
Gallery T in Tokyo (Japan)
Master-Beads Creattiva in Bergamo (Italy)
Creativa in Dortmund (Germany)
Beaders Best Perlenkunst-messe in Stuttgardt (Germany)
Swedish bead events
We enjoy meeting up to bead together in Sweden. Across the country we regularly have bead groups with 10 – 50 participants, and we also meet up at bigger events. "Beadalong" takes place in fall and is special; we spend an entire weekend beading together in one great hall, compete in friendly challenges, and teach and learn new techniques and designs. A few bead shops bring their stock to fill our shopping needs as well. This event islike no other!

Claspgarten is a German manufacturer of high quality clasps and findings. I often use their clasps, for instance in the necklace "Kaputt Draconis" below.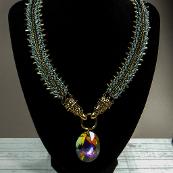 Beadsmith is one of the biggest bead suppliers in the world, as well as creator of the Battle of the Beadsmith contest. Part of their range of beads is used in my necklace "Baroque Weiss" .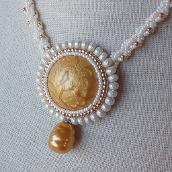 AnnaPia Gårdmo Jidler is a skilled beader who also work in polymer clay. She has made the lovely clasp for the "Shivering leaves" necklace.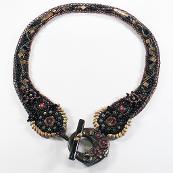 Smyckerian is a Swedish bead shop with a great array of metal findings. The necklace "Autumn leaves" is stitched using supplies from them.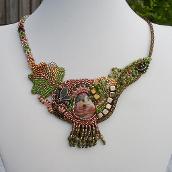 Links
Here are some great European bead shops I always visit when I'm travelling to different bead events.